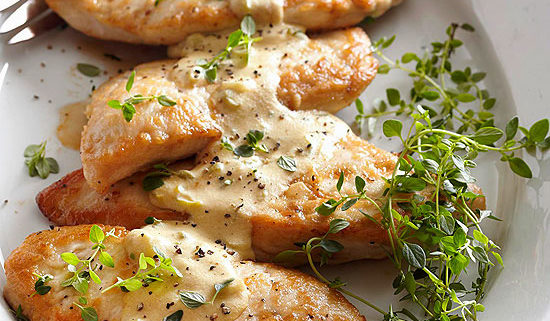 Don't fuss over what to make this week with these easy meals!
1. White Chicken Chili
All you need are few simple ingredients to create this delicious 5-Ingredient Easy White Chicken Chili recipe. You can make it quickly on the stove in just 15 minutes, or let it simmer all day in your slow cooker.
2. Chicken Dijonnaise
A quick Dijon mustard pan sauce with green onions and white wine complements tender chicken in this 30-minute dinner. A light coating of flour on the chicken creates a fried flavor without the calories and fat.
3. Mexican Skillet Dinner
Spice up your weeknight routine with a bold-skillet meal that highlights your favorite flavors of Mexico. Smoky chorizo, prepackaged veggies, and instant rice help slash cook time to 25 minutes. A layer of Mexican-blend cheese on top adds a touch of melty goodness.
4. Pesto Penne with Deli-Roasted Chicken
Market-fresh deli chicken and a jar of pesto make this pasta dinner a snap to prepare. Stud the restaurant-worthy dish with roasted peppers, Parm, and broccoli florets. This meal will come together in just 20 minutes.
5. Potato-Topped Beef Bowl
This is comfort food at its finest. Ground beef and mixed veggies are topped with a heaping helping of mashed potatoes and melted cheddar cheese. This meal will be ready in just 19 minutes!
6. Vegetable-Loaded Pasta Bake
As warm and hearty casseroles go, this healthy version is a keeper. It features both frozen and fresh vegetables, including kale, for a vegetarian recipe that will please the meat-lovers in your family, too!
7. Beef & Noodle Toss
Switch up your pasta routine and try lasagna noodles in this easy 30-minute dinner recipe that features mushrooms and tomatoes in a hearty beef broth sauce.