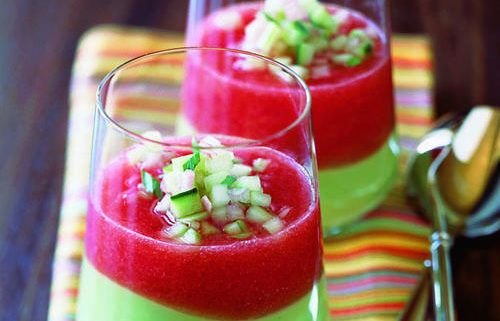 A super healthy supper or a lovely light lunch: take a chill!
Soup is for summer too!
A steaming bowl of soup can be a big turn-off when the temperature starts to climb, but chilled soups are a different story altogether. Cool, refreshing, colorful, and loaded with seasonal fruits and veggies, they're a perfect way to beat the heat.
Cold Thai-Style Mango Coconut Soup with Mango Relish
Mango and coconut are a match made in heaven; when combined with Thai red curry paste, the flavors in this soup are to die for.
Ingredients
2 tsp (10 mL) olive oil
1 onion, diced
2 tsp (10 mL) Thai red curry paste
2 large mangoes, peeled and quartered
So do you serve this soup for dessert? You could! Or as a palate cleansing middle course! Either way your guests will think you hired a top chef. But you have this simple recipe to make it look like you went to culinary school!
Ingredients
2 cups frozen strawberries
2 cups milk
1 cup heavy cream
1/2 cup sour cream
2 tablespoons white sugar, or to taste
Preperation:
Puree strawberries, milk, cream and sour cream in a blender or food processor until smooth. Stir in sugar to taste. Chill 8 hours or overnight in refrigerator before serving.