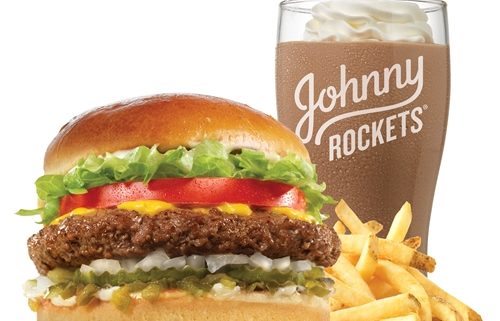 Learn where and how you can score free meals!
25. Rita's– Join today and receive exclusive offers year round, a FREE birthday treat and the latest scoop on Rita's– all delivered straight to your inbox.
1. IHOP- Who doesn't love free birthday meals? Join the IHOP Pancake Revolution to receive a free birthday meal and we'll throw in another free meal just for signing up!
2. TGI Friday's– Sign up for the T.G.I. Friday's 'Give Me More Strips Club' and you will receive: A coupon for a Free Appetizer or Dessert with entree purchase right away & a Free Dessert with entree purchase during your birthday month!
3. Denny's– Just bring your ID to prove it is your birthday and get a free Denny's Original Grand Slam meal which includes pancakes, eggs, sausage, and bacon!
4. Arby's – Get a free roast beef classic (with any purchase) when you sign up for Arby's Deals
5. BGR The Burger Joint– Sign up for the BGR Email Club and you will get a FREE burger when you sign up, anotherFREE burger on your birthday, and a FREE shake on your sign up anniversary date.
6. Red Lobster– Join the Fresh Catch Club and get a coupon for a free appetizer or dessert, as well as something free on your birthday!
7. 99 Restaurants- Register for their email club, the Ninety Nine E-Club, for a special FREE treat on your birthday.  As a member of their E-Club, Ninety Nine Restaurants will give you a FREE Dessert!
8. Red Robin– Register for a Red Royalty rewards card atredrobin.com/redroyalty and get a burger on your birthday, plus every 10th item free
9. Johnny Rockets– Sign up today and receive a FREE hamburger on your next visit and on your birthday. That's 2 free meals!
10. Sbarro– Slice Society members receive a free XL pepperoni or cheese slice, plus exclusive coupons, news on the latest promotions and a surprise on their birthday!
11. Benihana–  Register for The Chef's Table today and stay connected to everything happening at Benihana. During the month of your birthday, we'll email you a $30 Birthday Certificate to cash in for a meal.
12. Chili's– Sign up for Chili's rewards online and receive enough bonus points for your first FREE menu item & a coupon for a free appetizer or dessert on your birthday.
13. Au Bon Pain– Get a free travel mug, free salad or sandwich on your birthday and a free gift on your anniversary when you sign up for their email club.
14. Bruegger's Bagels – A free bagel of your choice with any kind of cream cheese (choices include lox, scallion, and more) when you sign up for their e-club online. Post sign-up you will receive a birthday coupon over email.
15. Applebee's– Sign up today for our email club to get a free treat for your birthday!
16. Moe's Southwestern Grill– Spice it up with a birthday burrito using your coupon after signing up for Moe's e-World. Once a member, you will be welcomed with a complimentary cup of Moe's Famous Queso.
17. Panera Bread– Get a free pastry, dessert or café item available that day when you join "MyPanera" rewards.
18. Morton's Steakhouse– When you sign up as a VIP member through Landry Select Club Cards receive a free dessert and a $25 additional reward on your birthday.
19. Olive Garden– Join their e-club and receive a coupon for a free appetizer or dessert.
20. Planet Smoothie– Do you love smoothies? How about FREE smoothies? If you sign up for Planet Smoothie's Official Birthday Club, not only will you celebrate each birthday with a free smoothie – you will also be the first to know about all of the delicious new blends available in your local store!
21. Sprinkles Cupcakes–  Join Sprinkles Perks and you will get a FREE Cupcake every year on your Birthday!  If you visit Sprinkles 20 or more times/year they will also give you a FREE Cupcake for your half birthday AND with 40+ visit you get a whole dozen Cupcakes FREE for your birthday!
22. Waffle House– Are you a Waffle House Regular? Get a free waffle when you join the Regulars Club online.
23. Qdoba– Get a free order of Chips and Salsa or Regular Drink loaded on your card for signing up. Then celebrate your birthday with a free burrito! Earn an entree on us every time you earn 1,000 points. In most markets, full-priced entrees are worth 100 points, so buy 10 get one free.
24. Sizzler– Enjoy a free Malibu chicken after joining their e-club. The e-coupon will indicate the birthday treat depending on your sizzler location.