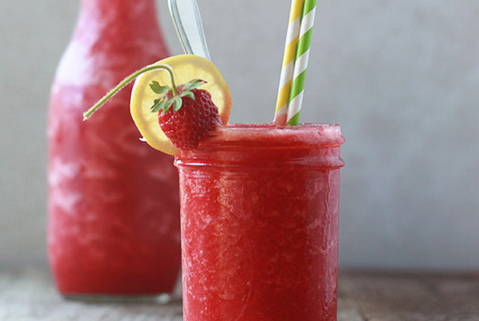 These drinks will keep everyone cool and feeling great!
Mellow Melon Margarita
This Mellow Melon Margarita recipe is from The Food Network
Ingredients
1 -1/2 oz. Patron Silver tequila
1 oz. fresh lime juice, freshly squeezed
1 oz. orange juice
1 Tbs. agave nectar
5 watermelon cubes
1 small watermelon wedge
Directions
Muddle the watermelon cubes in the bottom of a shaker glass. Add ice, Patron, lime juice, orange juice and agave syrup. Give it a good shake for approximately 10 seconds. Strain and pour into large rocks glass. Garnish with a watermelon wedge.
Frozen Irish Banana
This recipe for the Frozen Irish Banan is from Just a Pinch.
Ingredients
2 oz baileys irish cream
1 1/2 oz bacardi light rum
2 oz coco lopez
1/2 c half-and-half
1 banana (diced and frozen if possible)
1/2 c ice
nutmeg for garnish
1 strawberry halved for garnish
shaved coconut to rim glass
Directions
In advance, rim the end of a chilled goblet with shaved coconut
Blend all the ingredients, except the garnishes, until the mixture is smooth
Pour into a goblet.
Sprinkle the top with nutmeg, and garnish with half a strawberry
Boozy Strawberry Lemonade Slushies
This recipe is from Kitchen Treaty!
Ingredients
1/2 cup sugar
1 cup water + 2 cups water
3 cups fresh strawberries, hulls removed
3/4 cup fresh-squeezed lemon juice (from 6-8 large lemons)
3/4 cup vodka
1/3 cup Cointreau liqueur
Additional strawberries and lemon slices for garnish, if desired
Directions
Add sugar and 1 cup water to a small saucepan over medium-high heat. Bring to a boil, stirring occasionally, until sugar has dissolved. Remove from heat and add remaining 2 cups water. Add to the pitcher of a blender along with strawberries, lemon juice, vodka, and Cointreau. Puree until completely smooth.
Pour into a large freezer-safe container and seal with lid or plastic wrap. Carefully transfer to freezer. Freeze until solid, 4-6 hours.
Remove from freezer. Scrape with a fork to loosen ice; stir with a spoon to mix ice and the rest of the ingredients back together if necessary. Spoon into glasses, decorate the glass with a strawberry and a lemon slice if desired, and serve with a straw and a spoon.
Drunken Barney
This recipe is from Tipsy Bartender!
1. Green Layer:
2 oz (60 ml)Coconut Rum
3 oz (90 ml)Orange Juice
1 oz (30 ml) Blue Curacao
Ice
Blend
2. Purple Layer:
2 oz (60 ml) Vodka
1 oz (30 ml) Peach Schnapps
3 oz (90 ml) Cranberry Juice
Ice
Blend
3. Splash Blue Curacao, garnish with mint leaves
Peach and Rosé Slushie
This recipe is via The Soho
Ingredients
2 ripened peaches
1 tablespoon lemon juice
2 tablespoons sugar
1 cup of rosé, chilled
1 1/2 cups ice
Directions
To make peach purée, slice 2 ripe peaches and combine in a blender with 1 tablespoon of lemon juice and 2 tablespoons of sugar. Blend until smooth and then strain with a sieve, discarding the solid pieces. Rinse blender and combine 1/2 cup of the strained peach purée (you'll probably have extra) with 1 cup of cold rosé and 1 1/2 cups of ice. Blend for a few seconds until combined. Mixture should still have a slushy consistency. Serves 2
Frozen Texas Twister
This recipe was found on HGTV
Ingredients
2-1/2 to 3 oz. high-quality tequila
1-1/2 oz. Grand Marnier
1-1/2 to 2 oz. fresh lime juice
1/4 pint frozen limeade
Splash of Corona (or your favorite Mexican beer)
Splash of your favorite red wine such as Zinfandel
2 cups crushed ice
Directions
Blend all ingredients with ice in blender until smooth. Pour into a chilled margarita glass. Garnish with a lime wedge. Yield: Two drinks
Frozen Hurricane
This recipe was found on HGTV
Ingredients
1 oz. white rum
1 oz. Jamaican dark rum
1 oz. Bacardi 151
3 oz. orange juice
3 oz. unsweetened pineapple juice
1/2oz. grenadine
2-1/2 cups ice
Directions
Put all the ingredients into blender. Add ice and blend until slushy. Pour into a tall high-ball or large margarita glass. Enjoy!

Kahlua Mudslide Milkshake
This recipe was found on Fab Fatale
Ingredients
2 cups vanilla ice cream
1 tablespoon chocolate syrup
2 tablespoons chocolate powder
1 cup ice
1.5 ounces coffee liquor (I used Kahlua)
1.5 ounces Irish cream (I used Baileys)
1.5 ounces vodka
Directions
Dip the rim of each glass into chocolate sauce, and then chocolate shavings or chocolate powder. You can use hot chocolate, or blend semi-sweet chocolate chips or Baker's chocolate. Next, lean your glass sideways, and pour chocolate sauce from the bottom inside of the glass, to the top inside, while rotating the glass so that you are creating an upward spiral of sauce.
Next, blend all remaining ingredients in a blender until smooth. Pour into a glass and enjoy!
Peach Pineapple Slushies
Ingredients
1 1/2 cups diced peaches (freeze before blending)
1 1/2 cups diced pineapple (freeze before blending)
2 shots Malibu Rum
2 shots pineapple vodka (regular vodka or your favorite flavored vodka may be substituted)
2 shots peach schnapps
grenadine for drizzling, optional
maraschino cherries for garnishing, optional
For directions head to Averie Cooks!
Pomegranate Margarita Slushies
This recipe was found on Atypical Type A
Ingredients
1/2 cup water
1/2 cup caster sugar
2 cups pomegranate juice (I used POM Wonderful from the supermarket)
1/2 cup fresh lime juice
1/2 cup tequila
Lime slices and pomegranate seeds to serve
Directions
Place the water and sugar in a medium saucepan over medium heat. Stir to dissolve sugar. Bring to the boil for 1 minute. Remove from the heat. Add the pomegranate juice, lime juice and tequila and stir to combine. Pour into a shallow 1.5L baking dish. Freeze for 3 hours. Break up any ice crystals with a fork. Freeze for a further 3 hours or overnight, until frozen. Scrape mixture into a blender and blend quickly until slushy. Pour into glasses and top with lime slices and pomegranate seeds to serve. Makes 6